"
I'm a 
designer
who
tells stories 
through
 humanizing connections
between
people and technology."
"I use design to
transform lives, one smile
at a
time!"
Hi, I'm Matthew Waller, a senior, majoring in
industrial design with a focus on experience design and storytelling
at the Georgia Institute of Technology (graduating in Spring 2024),
interested in ride industrial design, interactive design, and project coordination/strategy roles in the themed entertainment industry.
I have had experience with software such as
Unity, Revit, Blender, Solidworks, and Adobe Creative Suite
, experience with modeling and building physical prototypes, and strong project management skills to get multiple projects done on time and on budget. I chose my major because I want to
use the power of design to bring smiles to people's faces and create an emotional impact on guests
. I want to make an impact in the field of experiential design by striving to design ride systems/vehicles and physical interactive experiences to create immersive environments, produce emotionally impactful guest experiences, and help transform lives one smile at a time. 
I have implemented my design skills in various projects by being the
President of Georgia Tech Theme Park Engineering and Design Club.
For instance, I created the Lantern of Life, which creates the illusion of people living inside of it so that one can experience it when standing in a queue for a themed attraction. In addition, I lead the story development and creative development of the future of retail experiences, called the "Star Lounge," in
partnership with Cognizant, Georgia Tech, and Macy's
. Also, an example of me using my leadership and communication skills is when I did my
Eagle Scout
project, where I built picnic tables for a local elementary school so the kids could have class and lunch outdoors!
I've been blessed to have interned with
Universal Creative, Storyland Studios, and American Scenic Design.
Through my time interning, I have been blessed and thankful to work with amazing teams on themed entertainment projects on three continents, helping to manage $1,000,000+ projects, learning so much about myself, and building my design and soft skills at the same time.
I also have been blessed to
represent Georgia Tech at the 2023 World Experience Summit as a keynote speaker in London
, talking about
some of my design research, experience design literature review, and how that was incorporated into the Star Lounge experience.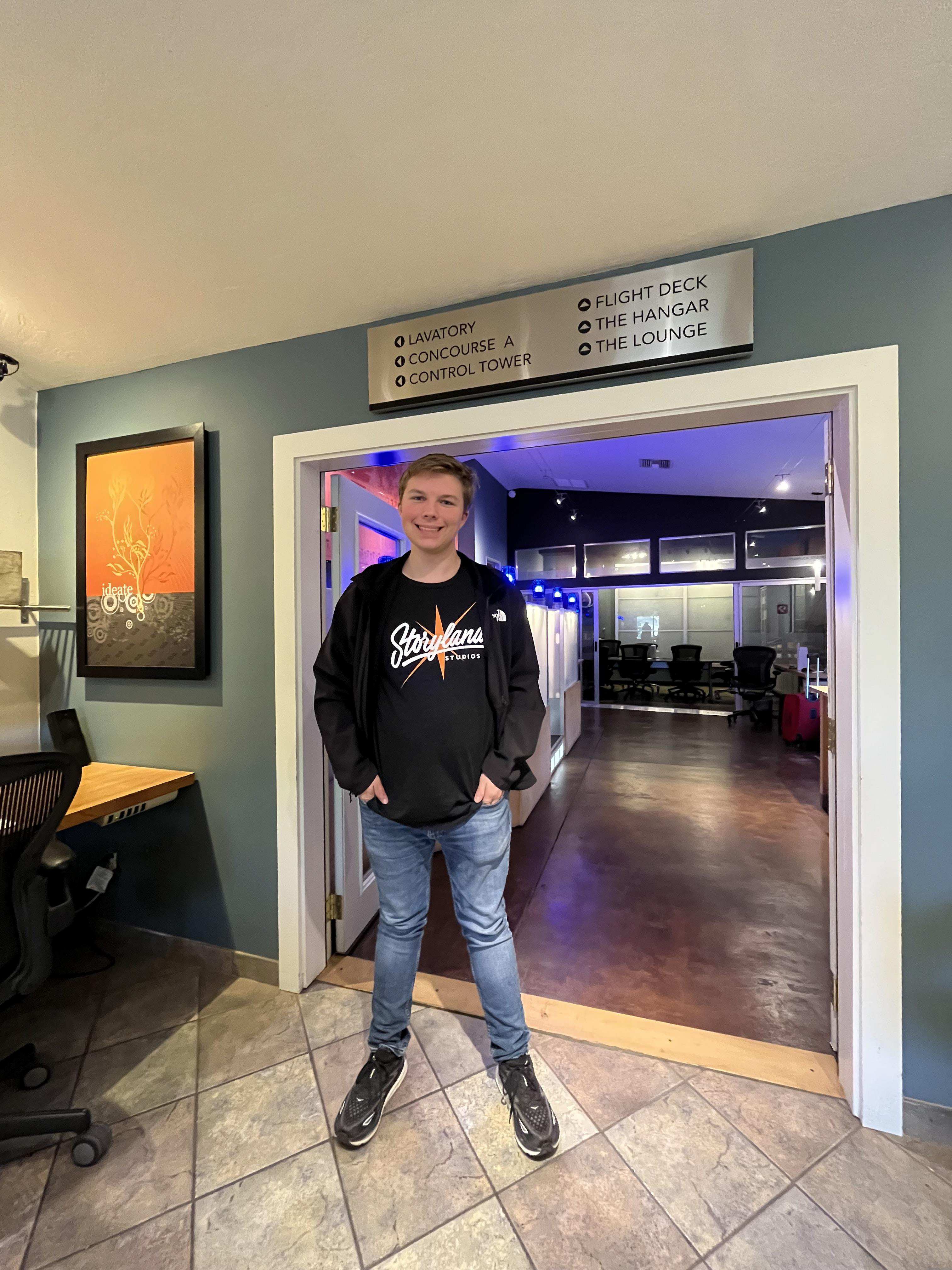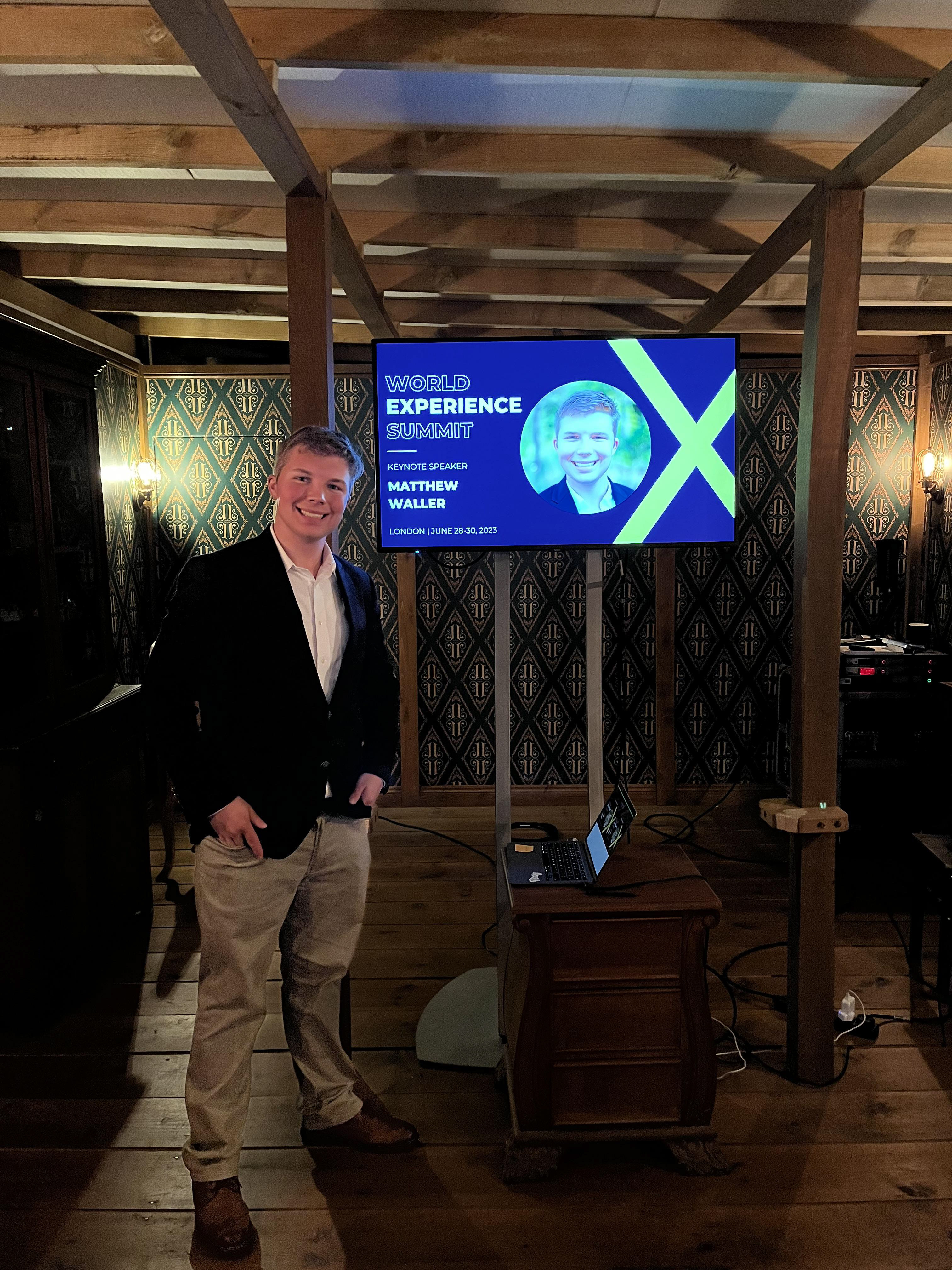 I love creating things using a
human-centered and research-based narrative design process.
This design process comes from taking Georgia Tech's human center and research-based design approach (based on the Stanford d.school) and combining it with the themed entertainment storytelling design process.  
While I start with this process, as times change, I am always open to learning and approaching design and myself in new ways
I love doing this as a part of the
experience economy,
based on the research of Joe Pine and Jim Gilmore. I love bringing joy to people's lives. However, I also want to work with others to help create
transformation experiences,
where the guests feel changed and inspired after leaving the transformation. 
This information is why I believe in using 
design to transform lives, one smile at a time! 
I believe in communication and working together. As my mentor Christopher Stapleton would say,
"Projects come and go, but people stay the same."
I love getting to know people, whether teammates or guests, and hearing each of their unique stories.
I love working with others in an
environment of
strong communication, candid attitudes, and continuous feedback
so that we can all learn and improve together. In addition, I work best being hands-on, in-person, and when collaborating with others to bounce ideas around with each other.
2. Finding the Best Story
Before the pen hits a page, I believe in understanding guests and their
needs (not just wants)
. This process begins with understanding the
client/business needs,
mind-mapping ideas, and then trying to empathize with all the stakeholders involved.  
By combining qualitative and quantitative research methods, need-finding, journey mapping, personas, and developing emotional insights and opportunities, an
audience-centric story and design criteria
can be created. This story will guide the project so that the experience will
connect to the guests and be
emotionally impactful.
Once the research is done, the
research helps to drive design decisions in the ideation and creation process. 
I then go through an iterative process of creating writing treatments and scripts, making mood boards, hand and digital sketching, concept development, and having interactive feedback sessions.
Then using 3D modeling software like
Solidworks, rapid prototyping techniques, selecting CMF (Color, Materials, and Finishes), and brand development,
I usually help physically build the product. Working with others, I can help get that product built in the field. This cycle can be repeated through multiple times.