To begin the research process, our class worked together to mind map and brainstorm multiple different industries that e-bikes could be used in or a part of.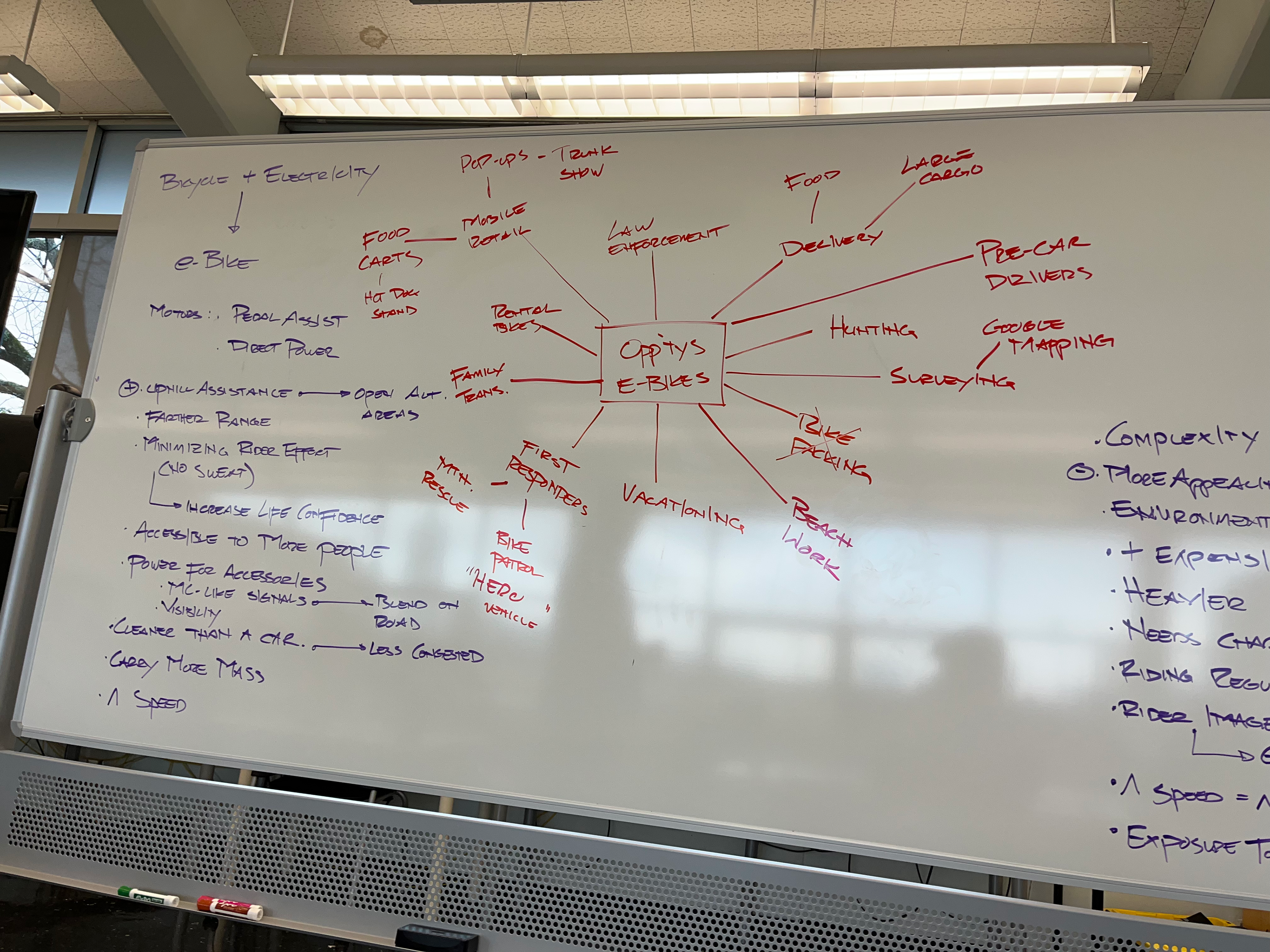 Working with a team of a team of 4 people and a team of 5 people, we began researching the vacation bike experience industry, the types of bikes, and understanding our consumers. 
We asked, "What is the bike vacation experience and what does it mean?"
I contributed to our team's research with a literature analysis, statistic research on where people travel and the types of vacations, and finding facts about the vacation experience and journey of the traveler. 
The data and facts were organized in Figma.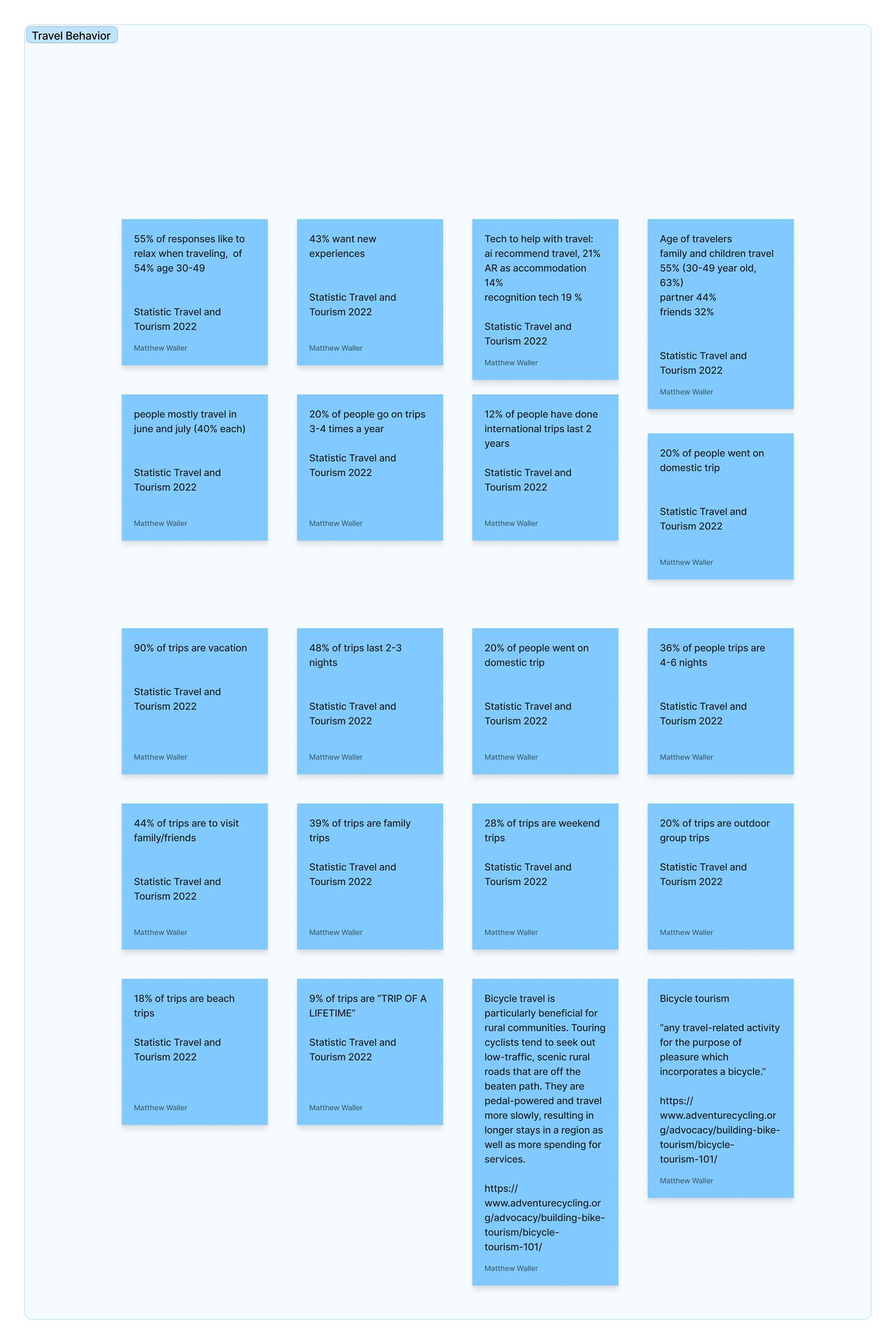 Researching the Product/Market Anyalisis
Through working with two different teams, I helped do research on user demographics and trends, market comparison, and the typical use of bikes on vacations.
Infinity Mapping and Quantitative Anyalais 
We printed out our findings. Then, we put up sticky notes with more questions we thought of, started organizing common trends/patterns, and breaking down different users.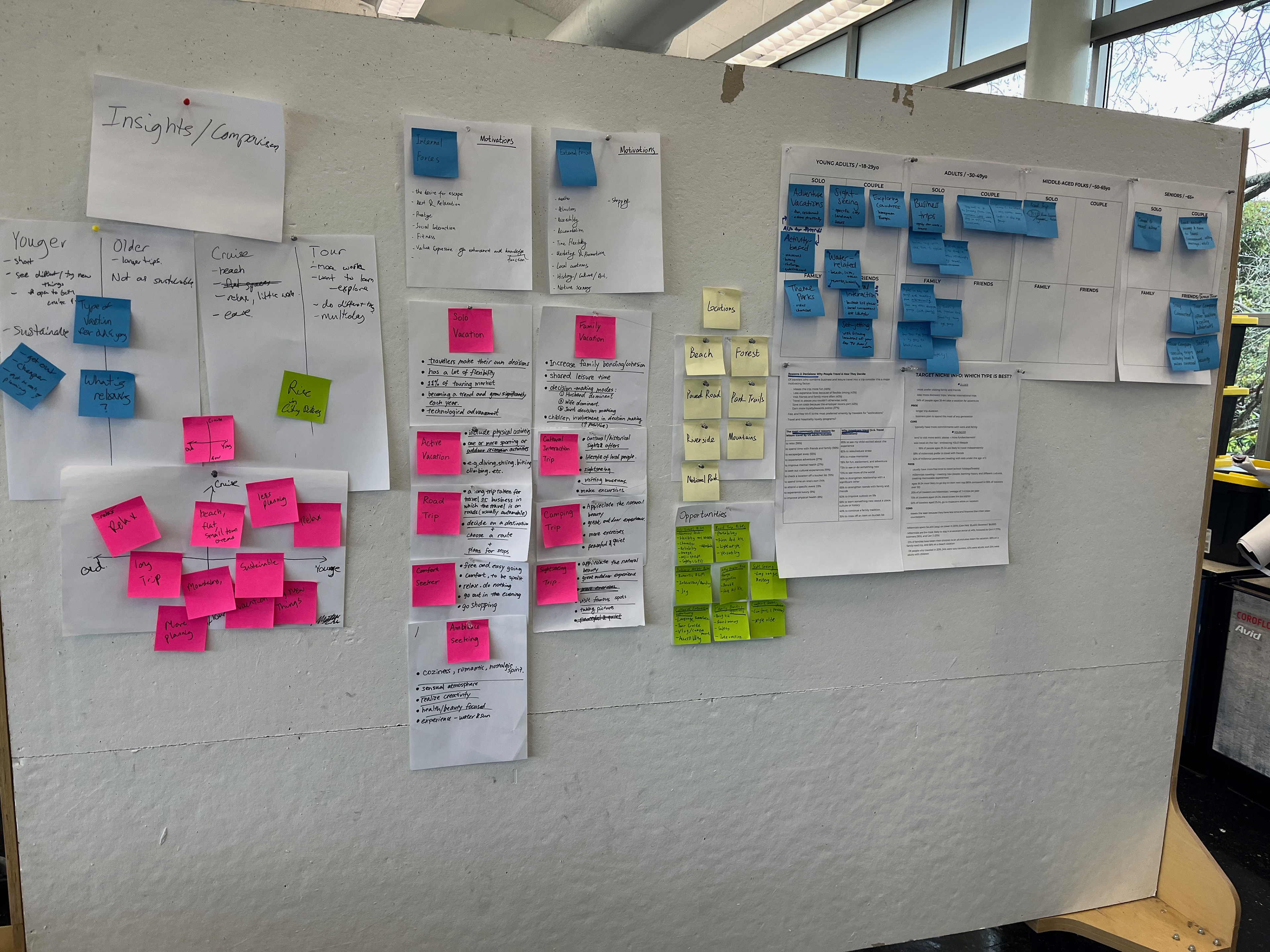 Qualitative Research/Ethnographic Studies
 To add to our team's research, I went out to the Atlanta Beltline to watch and document the use of bikes/e-bikes. I used the A.E.I.O.U, Powers of 10, interviews, and ethnographic analysis methods to learn more about the people who ride bikes on the weekend.
Survey, Results, and Analysis 
 We took the research we did online and the people that we spoke with, and developed a survey to learn more about how people use bikes on vacations. Questions we asked (and some I created) included what people do while they are on vacation, if they use bikes, who do people ride with, and where do they go with bikes. These results were analyzed and broken down by other group members. 
We found that most people do not use bikes due to the infrastructure of vacation areas and that using bikes was not usually a part of their vacation mental model.
Bike Vacation Experience Journey
We then took all this data analysis and created an experiential journey map to explain how people use bikes on vacations.
Who do People Travel With?
Next, we came up with 4 common user personas in which people ride their bikes on vacation with others. 
Green = Pros of Riding with the Group
Red = Cons of Riding with the Group
Greys = Goals/Actions Taken During Trip
From our research, the top three areas of opportunity to develop a bike for vacations surrounded dealing/involving with the planning, safety, and location of vacations.
The meaning of this poster is to show that while one may be going on vacation, we are asking the user if the bike is a part of the "course" of one's vacation. This insight poster was developed to help guide the rest of a vacation bike development
Due to some events, I had to change teams to develop a bike created for mountain search and rescue. You can learn more
here
.